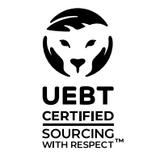 Nature
UEBT - Sourcing with Respect
UEBT is a non-profit association founded in 2007 that provides a globally recognised standard for sustainable sourcing and the use of raw materials. They work to regenerate nature and secure a better future for people through ethical sourcing of ingredients from biodiversity. The certification looks at a company's or ingredient's entire sourcing system to verify that the right policies are in place to biodiversity is conserved, ingredients are sourced sustainably, and that workers in the supply chain are treated equitably and paid fairly. UEBT ethical sourcing system certification began in 2018 with Weleda and Natura Cosmetics as launching partners.
Visit website
Sustainable Development Goals
Proof Point Level
Product
Business
Standard Summary
The certification process inspects the following:
Company, brand or product line specific ethical sourcing commitments, procedures and policies

Traceability systems for natural ingredient

In person audits verify the implementation of policies and procedures.
Brands are expected to follow those sourcing principles:
Conservation of biodiversity

Sustainable use of biodiversity

Fair and equitable sharing of benefits derived from the use of biodiversity

Socio-economic sustainability (productive, financial and market management)

Compliance with national and international legislation

Respect for rights of actors involved in BioTrade activities

Clarity about land tenure, right of use and access to natural resources
Additional Resources